Chalet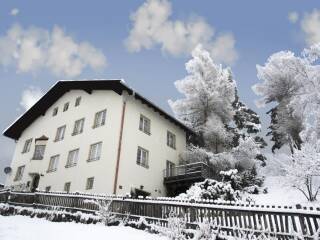 Chalet Kraxner
Kraxner Chalet is situated in a great location, at the beginning of the main street of the car-free village of Serfaus.
The chalet is located on the 1st and 2nd floor of an elevated Austrian building. This gives you a wonderful view of the little church of Serfaus, the village and the majestic valley. The interior of the chalet is simple in design and decoration but completely furnished in an inviting Tyrolean style. On the 1st floor, there are 3 bedrooms, a kitchen where your chalet staff will prepare delicious meals, and a small sitting/dining room. On the 2nd floor is a bedroom with bath room.
The large gondolas are located 900 meters from the chalet. However, the underground train station is less than 50 meters away and takes you to the gondolas within minutes. The centre of Serfaus is located just 100 meters from the chalet, a short stroll around the village and you can see all that Serfaus has to offer.