Chalet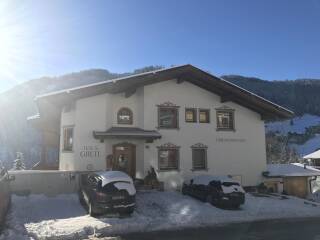 Chalet Gretl
The location of chalet Gretl is central but peaceful.
This chalet offers multiple spacious apartments. All the apartments have two bedrooms, (at least) two bathrooms, a living area, and a kitchen for individual use. All the apartments offer a great view of the mountains in Serfaus. The chalet also has a common living and dining area on the ground floor, which is shared with all the guests in the chalet.
Serfaus is a car-free village. Cars are only allowed in on Saturdays for unloading and reloading your luggage. There are extensive parking facilities at the beginning of the village. You will not need your car during your holiday. All the facilities of Serfaus are nearby the chalet because it's in a great location!