Chalet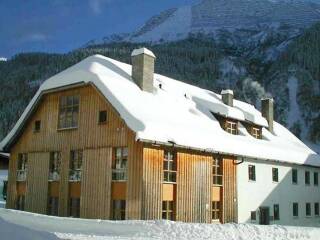 Chalet Levett
Chalet Levett is in a beautiful location within walking distance of the Nassereinbahn. In just 3 minutes you are at the lift that leads you to the most beautiful slopes of Sankt Anton.
Large windows in the living room provide a beautiful light and a beautiful view of the surroundings. The spacious living room on the second floor is ideal for enjoying a game together and having a drink. The dining room with open kitchen is equipped with the tradional Tiroler stone heating. With friends, family or colleagues you can sit in a long setting at the dining tables on a large Austrian wooden bench, you can all enjoy a comfortable dinner here.
Upon entering the chalet you will enter the communal hallway, In the hallway you will find the entrance to sauna and ski depot. On the left is the entrance to the halway to dining room and stairs. In total, chalet Levett has 11 bedrooms with 7 bathrooms. Please come and enjoy your ski-holidays at the best location in Sankt Anton with up to 24 guests!